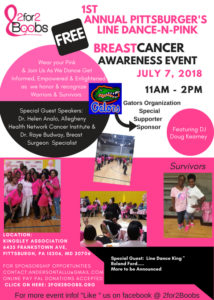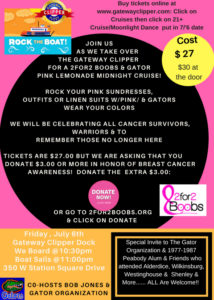 https://242midnightcruiselinedancenpink.eventbrite.com
We have two exciting events July 6 & 7, 2018 In Pittsburgh!
Friday, July-6th- 10:00pm -1:30pm (Boat Boards at 10:30pm)- Must Purchase Ticket From Gateway Clipper Cost is $27.00.
Wear Your Pink Sundresses and Linen or If you are a Gator, Your Gator Colors and Come Moon Light Cruise With Us on the Gateway Clipper. See Below on How to Get your Mid-Night Cruise Ticket.
Saturday, July 7th (11am-2:30pm)- FREE Event!
Come Line Dance and Get Breast Cancer Awareness at our 1st Annual Pittsburger Line Dance In Pink!Wear your Pink Join Us As We Dance Get Informed, Empowered & Enlightened as we honor & recognize Warrior & Survivors! Featuring Line Dance King " Roland Ford…..and other well know instructors, DJ, Raffle, Giveaway's & More! Special Guest Speakers:
Dr. Helen Analo, Allegheny ,Health Network Cancer Institute &
Dr. Raye Budway, Breast ,Surgeon Specialist and More!!!
IMPORTANT— MIDNIGHT CRUISE DETAILS FOR PURCHASING TICKET:
To purchase tickets, just go to gatewayclipper.com, click on the calendar and choose the "Moonlight" Cruise for Fri 7/6 and purchase your tickets. FOLKS WE NEED YOUR HELP! We are asking that you to please "Round Up" this year and take that extra $3.00 (or more) to make a difference in someone's life who's fighting for a "Cure and Cause". Please donate your tax deductible contributions of $3.00 or more to 2for2boobs.org.