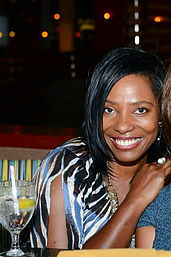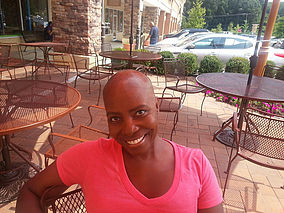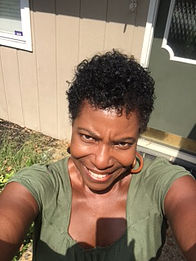 Piture #1 is Me before hair loss, hair all gone after 2nd treatment and me about a month ago!
I am Not My Hair……. This is one of my mantras now and the song is playing as I write this portion of my blog. What came to mind why, because as many of you who have known me for over the years I was known for my "pretty long black hair" that was my vanity for sure? So when I got my 2nd diagnosis of Breast Cancer last year it was around this time last year that I had no hair. You see, this time around I had Chemo 3 treatments and Chemo did its thing. You see when my doctor informed me that the recommendation was I didn't pay attention or care about the other side effects (nausea, tiredness, and joint pain, darkening of nails) the only one that frightened I was losing my hair.
The first treatment of Chemo I received actually energized me and I went out walking and exercising as usual with no hair loss. So I thought I'm going to be that one that doesn't lose my hair. The 2nd treatment is when the strands started coming out on one day and by the end of week my comb had 100's of strands. As I saw my hair fall in the sink I started to cry and this is the one and only time that I felt sorry for myself and had that "why me" feeling. One of my biggest fears just happened---The loss of what I prided myself on --- that Hair. I started collecting my hair and putting it in a bag to save (why I don't know) two days later I couldn't take seeing it come out like it was and called up my hairstylist to squeeze me in the next morning "alone" to cut it all off and that is exactly what she did. As she cut my hair my sister who was with me was encouraging and I looked to see her expression as my hair fell onto the floor. My stylists daughter who was 8 years old just stared but did not say anything that I was expecting someone her age to say like "why is she cutting off all her hair or she is bald now" I believe her mom prepared her ahead of time. When my stylist was done and I turned around and looked instead of being shocked and saddened I felt empowered and strong and I smiled.
In this picture it was just after having my hair cut off and I took off my hat to take this picture. I later went home and put on my "wig" with the goal of taking it off once I saw an inch of hair return which I did in April of 2015.
This experience reinforced what I believe is God's plan for me to be an advocate, share My Story, My Journey to help others, to empower them to take control of their Breast Health.